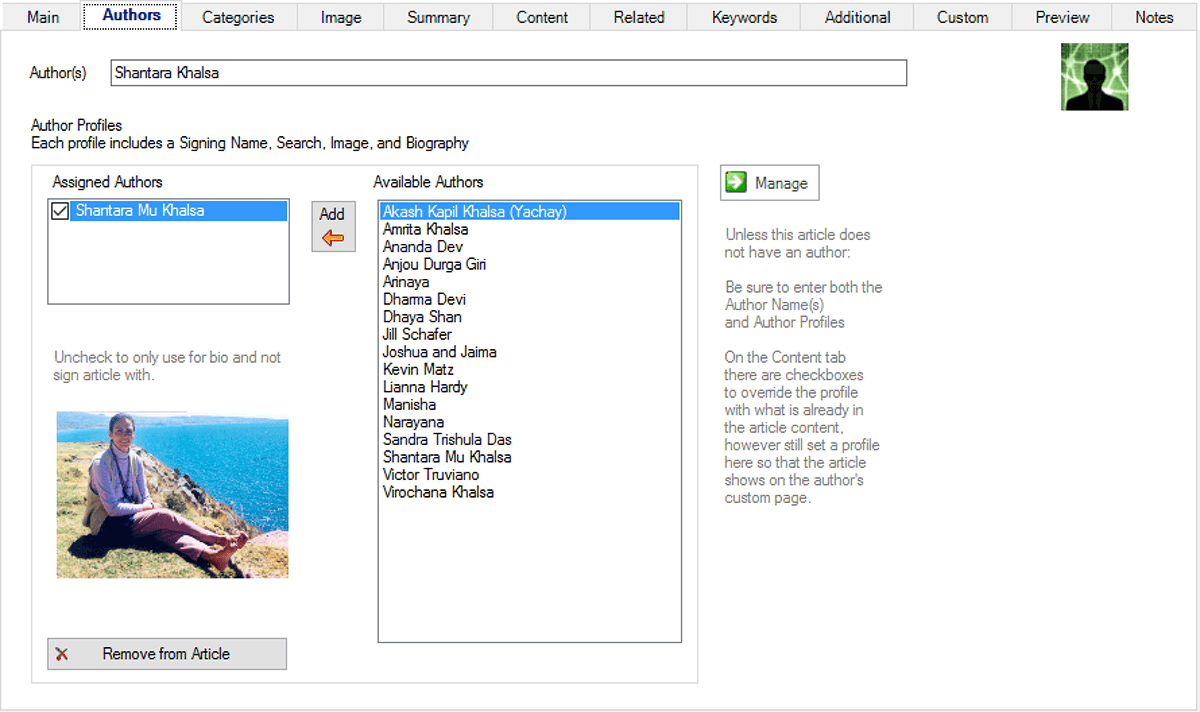 Assign one or more author profiles to your article. You can then show other articles by the same authors on the website, and have the article show up on the author's landing page.
Each author profile contains a picture and a biography, which can be automatically added at the end of your article. If you want to display a biography for a particular person, but not sign the article itself by that person, then uncheck the box next to their name. The subject of an interview would be a good example of this usage.
In addition to assigning a profile, also type in the name of the author(s) in the Authors field. As a timesaving tip: first select an author profile from the list and add it to the article, and if the Author(s) name field is blank, it will auto fill it from the profile. There is a behind the scenes efficiency reason that both a name is entered and a profile selected, as well as providing additional flexibility for some approaches.
Click here to learn about options when setting up authors, as well as creating author landing pages.
Field
Description

Authors

The name of the authors.

Author Profiles

Add a profile for each author of the article. If you want to include a biography or other information for a particular author profile at the end of the article, but you do not want to sign it with the profile – then uncheck the box next to the author profile added.

Each author profile contains an image of the author, a biography, and as much information as you want to display. Click on the management button to bring up author profiles management, or go to the Article Attributes form.

By adding a friendly URL to an author profile which is typically just the author's name, OmniChannel Commerce can automatically create an author's page with a list of articles written by that person. You can totally control how this looks and feels.

Assigning an author also allows the option to show other content by the author at the end of an article.
On the Content tab there are options to exclude automatically added signatures, biographies, etc. – which is used in concert with any customization by the developer of your website. Even if you are in the habit of placing the authors signature, biography, photo, etc. directly in the contents, still assign author profiles which has other benefits.