OVERALL BUSINESS CHALLENGE
Cotton Creations website presence was limited to a single channel of distribution. After completing a strategic assessment of the entire market for tie-dye garments, the company identified three distinct business channels to drive its future growth. Additionally, the company is pursuing an aggressive strategy to move its entire IT infrastructure to the cloud. The solution was found with Silver Earth's Omni Channel Commerce that leveraged a number of innovative solutions that only Kerrs could uniquely deliver.
"I was having a difficult time finding an eCommerce platform that had the ability to support both a B2B manufacturing/wholesale business and B2C. There were all kinds of B2C platforms available, however, none of them could support our wholesale business requirements. Silver Earth's OmniChannel truly supports Multi-Channel selling." ~Tim Tousignant, President and Owner.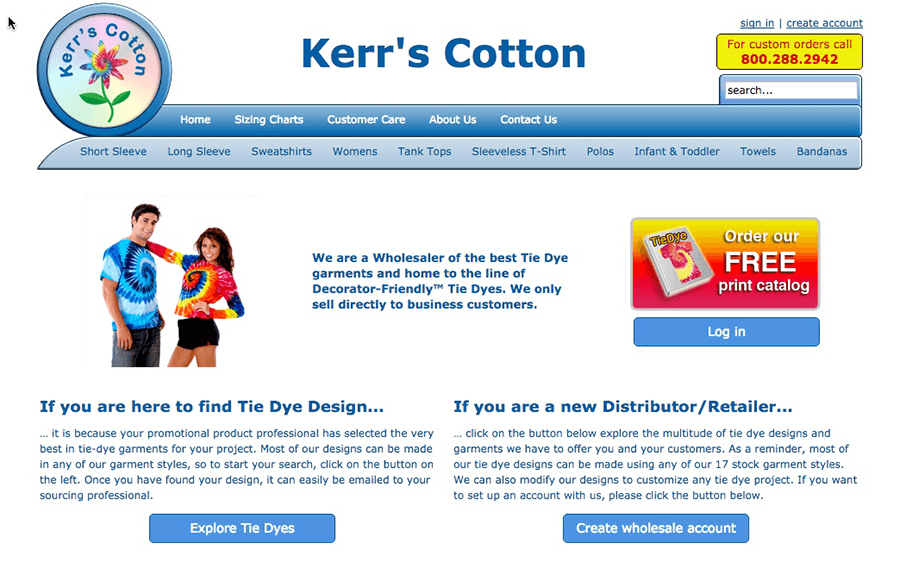 PROBLEM
Finding a single eCommerce platform that could not only support the two B2C channels but also support the single B2B channel as well. The B2B channel requirements were complicated by two distinct challenges.
The company's base products were offered in 17 different garment styles with multiple sizes that varied from garment style to garment style. This presented a complex SKU system.
The pricing structure was volume based. Simply put, the more a customer ordered, the lower the price they would receive.
Cotton Creations wanted a tool to manage its primary customer relationships with a cloud-based platform that could easily integrate aggregated sales and accounts receivable information within Quick Books. Exporting customer orders including product codes and sizes was cumbersome. There was a need to drive the company's ERP manufacturing system in a streamlines fashion. The current platform was not addressing the ability to easily update product content or other key information utilized by CC's customers.
SOLUTION
Replace the company's single website with three distinct websites positioned to each of the company's three strategic business channels. First, the company launched its B2C consumer site in April of 2012; then in September of 2012, it simultaneously launched its second B2C website and its core B2B website. We were able to create one intelligent database that provides one reporting architecture across all 3 websites from shipping to promotion codes, to products management. This meant the following were updated or created to solve for any of the previous issues.
Product Kits
Volumetric based pricing structure
Accounting Integration
Supply Chain
Orders Fulfillment
Content Management
Multi-Channel
Lower Marketing expenditures
Efficiencies in every major cost center, particularly labor savings across the organization