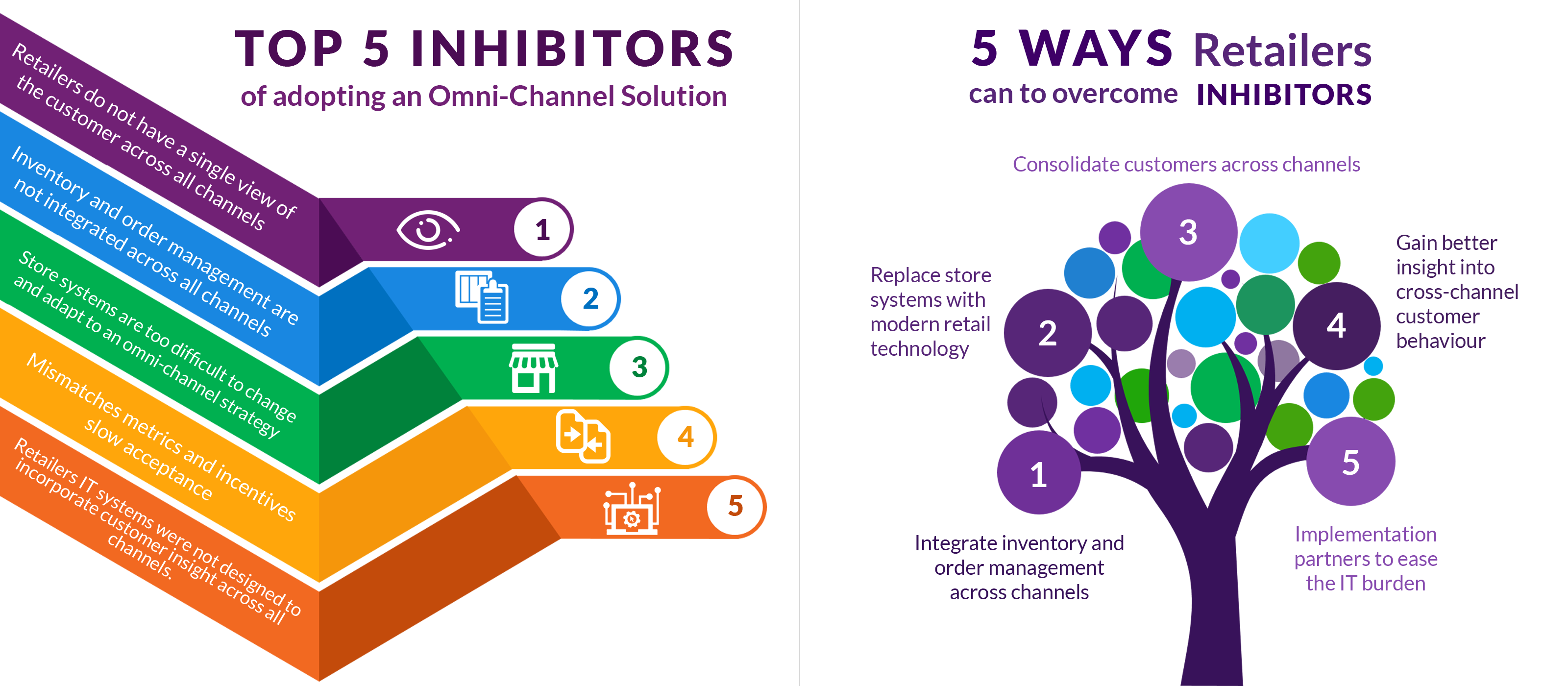 Growing a business is challenging, and now with the landscape of omni-channel commerce those challenges can become greater if retailers are not setup to handle all the moving parts.
A recent report by cksystems found the following 5 issues to be the top challenges facing retailers in the Omni-Channel Market:
1. Retailers do not have a single view of the customer across all channels

2. Inventory and order management are not integrated across all channels

3. Store systems are too difficult to change and adapt to an omni-channel strategy

4. Mismatched metrics and incentives slow acceptance

5. Retailer's IT systems were not designed to incorporate customer insight across all channels
Solutions: At Silver Earth we too identified these challenges, and that is exactly why we designed OmniChannel Commerce to solve all of these issues.
1. In OmniChannel Commerce, retailers and wholesalers have a single view to track customer behavior - from purchase decisions to order management - across all channels.

2. We specifically designed our system to solve the data silos of inventory and order management. With OmniChannel Commerce businesses have total visibility of inventory and order management across all their channels. This means that OCC accounts for all inventory locations, drop shippers, consignment locations, fulfilled by amazon, and physical inventory on the floor in storefronts. Additionally, all online orders from websites to marketplaces are managed in one place on our platform. All of this data is available in real-time, across all channels, and available to all users managing the backend system.

3. It is no secret that most POS systems fail to integrate seamlessly - in realtime - with online sales channels and inventory. In OmniChannel Commerce we built our system to solve this problem. Our real-time integration across all channels makes the difficulty of re-platforming worthwhile. The benefits of multi-store POS and inventory being seamlessly linked with online sales channels is very powerful. Therefore adopting an OmniChannel strategy ultimately boils down to having the right backend in place to be able to implement the right strategies and practices. This is exactly what OmniChannel Commerce provides customers.

4. Mismatched metrics is a direct result of poor backend integration. If your data is compartmentalized the end result is data inaccuracy and unreliability. This makes operating in an omni-channel environment very difficult. Again, our platform is designed to solve this issue.

5. In today's IT market most big players systems are the byproduct of outdated code bases (and system architecture) dating back to the late 80s, sometimes earlier. At that point in time the full scope of omni-channel commerce was not even in view of software engineers. As a result, various companies have patched together their backend systems as best they can. This has resulted in inefficient or insufficient performance, with inherently restricted features. Some newer players have built systems with more modern code but have been unable to address these core architectural challenges. Managing unlimited sales channels and unlimited inventory locations of various types is a major engineering challenge. Silver Earth approached this challenge with new thinking and created a highly innovative platform that is specifically designed to handle this complexity.
If you are business facing any of these challenges and want to learn what Silver Earth's OmniChannel Commerce can do for you please Contact Us, and we can show you what our platform has to offer your specific business needs.